Trovarit specialises in business software projects and has gained renown as a dependable and independent partner when it comes to the evaluation, implementation and optimisation of ERP systems. Now, the consultants from Aachen have started their own ERP/CRM project in order to get better support for their processes.
Starting Point: Heterogenous Software Landscape
Shortly after its founding in 2000, Trovarit – like most start-ups, especially in the services industry – implemented the world's most used ERP system: MS Excel. This was closely followed by  Cobra Adress+ for customer relationship management. Since 2009, Trovarit has been using "Datev – Unternehmen Online" in combination with the services of the tax counsellor for financial accounting. The "Trovarit-Projektportal", an internally developed online solution, serves as a tool for project management and settlement. All of these are valuable solutions which significantly supported our staff in handling their daily business.
However, the landscape is also a very colourful bunch of solutions and it was continuously "freshened up" and "extended" by in-house development (which means: a lot of tinkering going on). Today, after 15 years of business expansion, with more than 15 offices in Germany and abroad, the demands on software support for the processes have increased so far that a new solution is required.
No Need to be Afraid of ERP Projects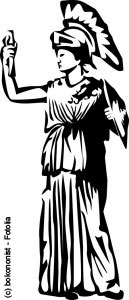 The project "Minerva" will put Trovarit's very essence to the test: The methods and tools the Trovarit consultants usually use to support their clients – companies from different industries and of varying sizes – will now be employed to select and implement an ERP for Trovarit themselves.
All members of the project team are sure that these tools and methods will live up to the job without problems. Still, a bit of heavenly succour cannot do any harm. With Minerva, Trovarit has chosen the sponsor of the artisans and traders, protector of the poets and teachers, goddess of wisdom, of tactics, of art and of ship-building as a patron.
The complete self-test will be frankly documented (in German) at   www.trovarit.com/minerva.
Stay tuned here at www.erp-area.com for regular updates in English.