Manufacturing Execution Systems (MES)
Manufacturing Execution Systems (MES) are systems for production planning and controlling. While leading central planning systems illustrate operational processes usually width wise, ME-systems are designed to plan and control production processes with attention to detail. Which tasks are mainly in the focal point of such a production management level depends on the production organisation. The process-oriented cut off to the up- and downstream planning levels is of great importance for a successful MES usage.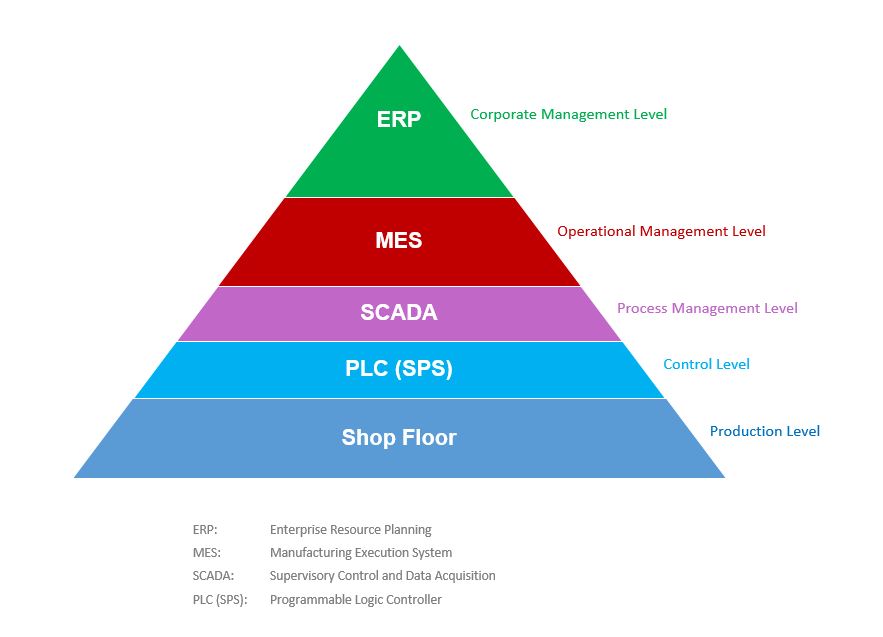 The order processes that typically derive from the superordinate ERP-system are being concretised for the purpose of production planning and controlling and subsequently passed on to the executing levels, in which the controlling of technical processes as well as the registration of relevant data may take place. Additionally, within the context of industry 4.0, MES serves as an important component to connect processes and resources for a better and faster planning process beyond different planning levels.
In detail, MES covers the following tasks individually or in combination:
Detailed planning and fine tuning
Production facilities management
Material management
Human resources management
Data collection
Performance analysis
Quality management
Information management
A main requirement for a successful MES implementation is the definition of objectives within the production area. If necessary, the evaluation of competing target figures should be included in this step. For a MES implementation that is recognised in income, it is further important to have data and a synchronisation of company processes that are of high quality.
The competence centre MES provides its experience, methods and tools for all questions related to the topic of production management. Our specialists support you with the following tasks:
Formulation of the fundamental planning aims
Import and analysis of the relevant order processes, determination of the relevant data quality, evaluation of the existing planning systems
Consultancy during the MES selection process
Technical concept (strategic, professional, technical and organisational requirements)
Classification and entire conception in line with new technologies regarding the topic 'industry 4.0'
Specification sheet, market research and tenders
Proof-of-Concept preparation and realisation
Comparison of reference customers, final selection
System specification and contract negotiations
Support during the implementation
Senior Consultant

Rolf Kipp

Rolf Kipp

Senior Consultant

http://www.trovarit.com

Nach Abschluss seines Maschinenbaustudiums an der RWTH Aachen mit der Fachrichtung Produktionsmanagement arbeitete Rolf Kipp sechs Jahre lang bei der Ford Werke AG (Düren) im Bereich der Produktionsplanung. Seit 2001 ist er bei der Trovarit AG im Produktmanagement und Consulting, insbesondere für die Anwendungsbereiche ERP und MES tätig. Seine Schwerpunkte dort liegen in der Beratung bei Reorganisation und Auswahl im Rahmen von ERP- und MES-Projekten, Vertragsverhandlungen bei Software-Investitionen, der Begleitung von Implementierungsprojekten (Projekteinrichtung und -management, Abnahmen, Lösungsgestaltung) sowie in der Erstellung und Weiterentwicklung von Lastenheftvorlagen für ERP und MES.

Senior Consultant

Christian Müller

Christian Müller

Senior Consultant

http://www.trovarit.com

Nach dem Studium der Betriebswirtschaftslehre an der RWTH Aachen arbeitete Herr Müller in verschiedenen Beratungsunternehmen zum Thema ERP und MES. Dazu gehörte für einige Jahre auch der Aufbau und die Führung eines eigenen Beratungs- und Entwicklungshauses in Aachen, in welchem u.a. Lösungen für das MES-Umfeld entwickelt wurden. Seit 2011 arbeitet er als Senior Consultant bei der Trovarit AG mit Schwerpunkt in der Beratung produzierender Unternehmen. Zu seinen Aufgaben gehört die Prozess- und Potentialanalyse und die Beratung unserer Kunden bei der Auswahl und Einführung geeigneter betrieblicher Planungssysteme.