ERP Roadmap: Sustainable Planning of the Use of Business Software
Ever faster changing market conditions, increasing competition and ever higher customer requirements demand more transparency, flexibility and speed from companies and their processes. In order to meet these requirements, companies must not only continue to optimize their business processes, but also use modern digital technologies to network them more closely. This applies both to internal processes and to the entire supply chain from the supplier to the customer.
In order not to get bogged down in the ever more complex network of processes and IT, an individual strategy – an IT or ERP roadmap – is needed to set the guidelines for the sustainable planning and further development of processes and IT.
Trovarit uses a well-founded methodology and powerful tools to create a reliable basis for the safe and efficient further development of the software infrastructure.
Initialisation

Projecting / Scoping

Usage Analysis

User survey, assessment by the management

Validation

Analysis, consolidation

Management Workshop

Benefits & costs estimation, prioritisation
At the center of IT-Roadmap is a usage and potentials analysis. Management, users and IT answer these three central questions:
What influence do the business processes and functions have on the success of the company?
How mature are the company processes with regard to stability and contollability?
To what degree and how good does the existing software infrastructure support the execution of the business processes?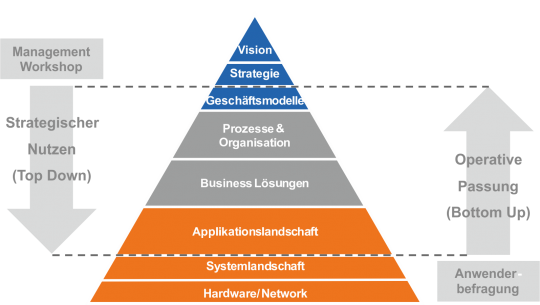 Starting from the answers to there questions, the optimisation potentials and the fields of action are determined, consolidated and prioritised. Possible approaches to tackle the more relevant fields of action are developed and roughly assessed with regard to costs, benefits and bi-directional dependencies.
The result is a chronological and topical roadmap which includes all measures for the mid-term and long-term development of the business software infrastructure.under consideration of the existing software landscape. These measures can cover, e.g.
procurement of additional software products (also modules, add-ons etc.)
replacement of individual developments by standard solutions
consolidation of the used solutions
streamlining and/or standardisation of business processes
consolidation of master data
training of employees