Get your IT in top shape!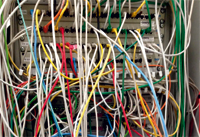 Long waiting times, incomplete reports and system crashes: If the performance of an IT system does not meet the requirements of a company, in the worst case it can jeopardise the company's success. The causes for such performance deficits and disruptions can be manifold and literally range from dusty plug connections to insufficiently dimensioned networks.
However, the search for errors and weak points is difficult in many companies: IT infrastructures often have to grow reactively with the company, which is often reflected in incomplete documentation of the systems. If, on top of that, IT staff change or external IT infrastructures have to be maintained, e.g., as a result of takeovers, etc., there is often simply a lack of knowledge transfer.
So where to start? How can the IT infrastructure become fit for its tasks again?