If your market does not stop at country borders, then neither does the need to plan and control your business processes! But can your ERP software handle foreign languages, laws and regulations? Does your ERP vendor supply full technical support abroad?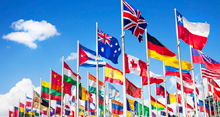 When businesses "go international" they do this to open new markets, accelerate growth and increase profitability. But to take advantage of these opportunities, they must be able to master quite a number of new challenges: They must manage financial operations across countries with different currencies, for example, different tax laws, and reporting and oversight requirements. International businesses must be able to manage financial consolidations at multiple levels, each subsidiary needs to have local operational control, and the parent company must be able to roll up data into consolidated financial reports.
Today, this basically means that they must have software which can do all this.
All modern ERP systems are designed for international deployment – well, theoretically. In practice, more than twelve years of experience with hundreds of ERP projects has taught us that, at least at present, there is no ERP vendor whose products are available with their full functional scope in the same quality, worldwide.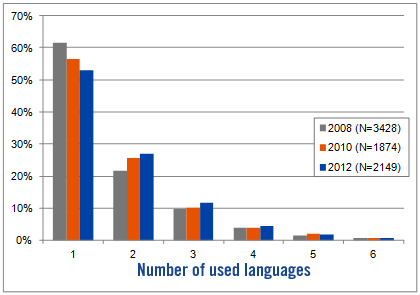 No English, please
The support of multiple languages is a central requirement of ERP systems for international business. If a company delivers goods to foreign countries it should, for example, be able to print out shipping notes in the national language – no matter where the company offices are. Hence, the ERP software must support unicode in order to be able to process special characters like Arabic or Russian letters. This is even more important when the company has actual branches or subsidiaries abroad: In this case, also the user interface and the help system must be available in the national languages. English as the "world language" is no adequate alternative in many countries because not all users of an ERP system have the necessary educational background or, indeed, the cultural willingness.
Legally Sound?
Different countries, different laws – and different currencies. This fact gets to many businesses worldwide. Even within the EU, and for a standard process like invoicing, you need to consider different conditions, like different VAT rates. The same is true for custom's regulations and environmental legislation. In addition, countries like Russia or China have a tendency to change their legislation more often than most European countries.
Multi-Site-Management for Intercompany Processes
A well-known task for companies working with contract manufacturers abroad: A customer from country A orders a product which is manufactured in country B. Shipping note and invoice are created by the headquarters in country C. A high degree of automisation is required for this process to run quickly and smoothlessly. Normally, modern ERP solutions provide the necessary functionality for this but in detail these systems can handle these tasks quite differently. Therefore, decision makers should ask for a demonstration of processes like this – preferably under realistic conditions – in order to be sure that the system matches their own business. Equally important is a centralised data management which supports fast and well-founded business decisions with transparent financial figures and an efficient controlling.
ERP as a Program for Growth
International growth does not only affect the number of customers and new markets. It can also mean a new legal form, additions to the organisational structure – e.g. the acquisition of a production site – or new sales channels. All these must be integrated into the company's processes quickly and without friction. Therefore, ERP solutions must be adjustable with regard to different dimensions. In fact, high scaleability and flexibility are core requirements when the ERP software is supposed to further international growth instead of hindering it.
International Support
Our experience shows that the co-operation between vendor, implementation partner and user company is critical for the success of ERP implementations. For international ERP projects this means that decision makers should explicitly ask about local support abroad – both during implementation and afterwards.
Does the vendor have own offices in the relevant countries?
Which services does the vendor perform locally?
Are there local personnel resources for technical problem solving?
Does the vendor have partners with native experts in the relevant countries?
What is the basis of the co-operation between the branches and/or partners in different countries?
What are the qualifications of the persons acting on behalf of the vendor in the relevant countries? Certificates? References?
Who is the central contact for the customer?
Is there a uniform and transparent software implementation method with standardised reporting concerning the project?
What are the rough steps of the roll-out? Is there a guarantee that the future users will be trained in their native language?
How is support organised after implementation?
In most cases this is not required anyway. However, the fact, that not all products can be deployed to all countries makes it so important to have a clear notion of the requirements for each subsidiary early on in the project, so that the matching product – or combination of products – can be found. Ideally, these requirements also include foreseeable future requirements, resulting from the expected further development of the business. Whatever the requirement, which finally tips the scales towards one product or another – there are two aspects, which are k.o. criteria for the selection of a software solution in international projects: experience with the country in question and available local support.